It's Pop Culture Week! That means I am going to talk about a favorite TV show...every summer I end up watching Big Brother.
Now, I am not going to talk about who won, but I am going to talk about Slop. 
Big Brother Slop started during Season 7 as a replacement to the PB&J penalty (peanut butter and jelly). From Big Brother 1 Up until Big Brother 7 there was no slop and house guests were given dreaded peanut butter and jelly to eat 24/7. (I don't understand how PB&J was a punishment). CBS Big Brother production changed the rules again for Big Brother 11 by expanding the slop penalty into what they called Have Have-Nots.
During Big Brother 7-10 there was Food Competition in Starting with Big Brother 11-13 it was changed to Have Have-Nots. Losing either of these would result in you being on Slop/have-nots. Certain HOH endurance competitions penalize players with have-nots. This happened during season 12's week 5 HOH when the first player to fall was put on slop. Some times the HOH winner is allowed to select the weeks have-Not. Like when Jeff won Week 7 HOH in BB11 and put Michele and Russell on Have nots.
Slop has a couple pronounced effects on the majority of the house guests forced to eat it.
a) weight loss
b) lack of energy
c) emotionally instability
d) Gas and intestinal bloating
e) Slop allergy
Since have not players also have to stick with eating Slop all the Slop issues still affect Have-Nots. It has also been noticed that players who are have nots tend to form at least short term alliances as they share in each others suffering and share the same room to sleep. this is exacerbated when it is the HOH who appoints the have nots and spend their entire HOH reign locked up in the HOH room while the have nots plot their demise.
Big Brother Slop is vitamin and protein fortified cut steel oats. Natural oats, proprietary blend of whey protein concentrate, soy protein isolate, wheat protein isolate, milk protein isolate, natural and artificial flavors, vitamins and minerals (vitamin A palmitate, thiamine mononitrate, riboflavin, pyridoxine hydrochloride, cyanocobalamin, vitamin D3, alpha tocopherol, niacin, biotin, pantothenic acid, calcium carbonate, magnesium oxide, zinc oxide, copper gluconate, manganese sulfate, ferrous sulfate, folic acid, potassium iodide), cellulose gum, salt and acesulfame potassium.
If a player was placed on slop the rule was simple they cannot eat anything else but official Big Brother Slop and a list of condiments. This also excludes Alcohol. The Food Competition Winner does not have to eat slop nor does the HOH. All rules that apply with slop applies to the Have Nots with 3 additions. The House guests must sleep in the Have nots Room. Take Cold Showers and they are allowed to eat 2 Food Restrictions chosen by the TV fans.
In a way the impact of slop has been lessened with the introduction of allowing the houseguests 2 more choices of food to eat, however the choices are usually less than appetizing resulting in the houseguests just eating the Slop.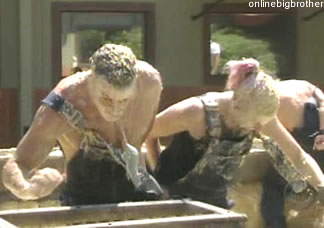 Essentially when you are on slop the only "real" food you can eat are a) Slop b) whatever the punishment food is. You are permitted to eat condiments:
(balsamic vinegar, olive oil, vegetable oil, hot sauce, ketchup, BBQ sauce, mayonnaise, mustard, pickles, relish, salsa, soy sauce, steak sauce, Worcestershire sauce, honey, black pepper, garlic salt, crushed red pepper, salt, vanilla, basil, bay leaves, cinnamon, leaf oregano, paprika, parsley, rosemary, brown sugar, artificial sweetener, powdered creamer, white sugar, tea and protein powder).
That brings it to my slop....yummy cut steel oats with fresh fruit! Never a penalty here!
Who wants some slop?